Positive Resident Lifecycle
Maintain brand relationship and maximize recovery
Finally a robust software solution for revenue recovery that's consistent, effective and protects brand. Communicating with your former resident from move-out to resolve accounts and increase bottom line.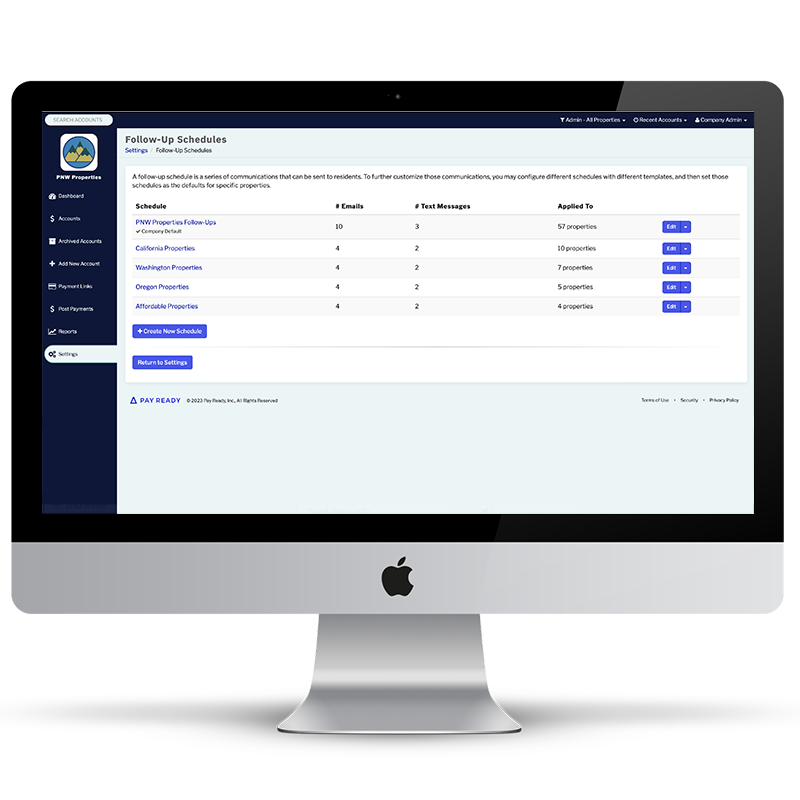 A platform that takes over post move-out
The human outreach is augmented with automated messaging and follow-up. The onsite teams now have a place to keep their notes and records within the CRM system, enabling tracking and real-time reporting.
Customized reporting all the way through the collection process, should it need to go that far, is accessible in one centralized location. The data and key metrics within each report are relied upon to make informed and operational data-driven decisions.

Everything your organization needs to maximize yield.
Pay Ready's technology is redefining the way owners, operators and residents engage with post move-out accounts receivables.

Client success is our priority
We're dedicated to helping our clients achieve their goals. We are not just prepared, but thrilled to assist you in taking your organization to the next level whenever you are ready.
AI technology that streamlines renter recovery
We're integrating top-tier AI solutions across voice, text, email, and chat platforms, enabling residents to interact with us in a natural and convenient manner. Pay Ready's AI tools are powered by a vast resident dataset, enabling them to provide personalized and accurate responses.
Add Pay Ready to your operational toolkit
Experience the redefining recovery process and see for yourself how Pay Ready's post-resident technology maximizes yield – partner with us today.
Pay Ready has streamlined integrations with most of the industry's property management software systems, providing a seamless experience for our users.